A
Traction
Tip
from
the
Track
Builders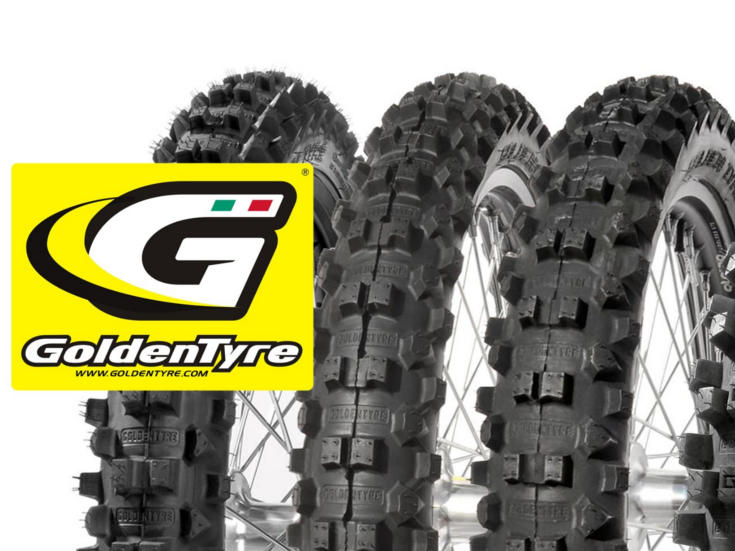 TWO reasons you should run a Goldentyre 216X or 523.
#1.  Running this tire will give you an advantage over those in your class who are not running it.
#2.  Running this tire will keep you from being at a disadvantage to those in your class who ARE running it.
It really is that simple. 
We have run many brands of tires over the years, with different compounds and tread patterns.  It is my opinion that the X compound (gummy) from GoldenTyre performs waaaaaay better in rocks and roots than any other tire I've ever run.  And unlike a trials pattern, there's no sacrifice in the dirt.  It's a knobby with the grip of a trials tire.  At TKO, I ran a WELL WORN 216X (Graham's takeoff), and can honestly say that it was good for at least 20 positions.  Even at only 75% tread!
There were several steep rock sections where I encountered bottlenecks and had to stop briefly.  As others smoked their tires and spent valuable time and energy, I was able to pull out from a dead stop and clear the hill with ease.  Often passing 6 or 8 riders at a time.  At one obstacle, the bike literally wheelied slowly out of the section at ¼ throttle…as the riders around me struggled to find any traction whatsoever. 
While my ego would love to credit my skills for those moments, I know it was the GoldenTyre 216X that gave me an edge.  The tire is just that good. 
The guys at Mt. Moto do not endorse products we don't believe in.  We are very happy with their product, and also their dedication to The Terra Kings Beast Mode TT.  Be sure and stop by the GoldenTyre USA trailer and have a chat with Amanda and Chris.  They will have plenty of these terrific tires and bibs on hand.
-Travis
###